Marey 5L Tankless Hot Water Heater Liquid Propane Instant On Demand 1.89 GPM
QUICK OVERVIEW

Marey GA5FLP Tankless Water Heater Liquid Propane
No electrical connection required, pulse ignition, powered by (2) D batteries.
Activated by water flow, not water pressure.
Multiple safety sensors including auto cut-off, automatic ignition, anti-dry combustion, over-pressure, overheating, flameout protection, and twin solenoid valves.
Convenient summer/winter switch to control your temperature all year round.
Very DIY friendly and easy to install.
Saves water and uses up to 60% less electricity than conventional tank water heaters, making it cost-effective and eco-friendly. 
Can maintain 87% efficiency level throughout a lifetime
5-year warranty
PRODUCT FEATURES
Water-controlled automatic ignition
This unit provides more comfort and energy savings in the form of lower gas consumption in warmer months.
Sufficient flow is always required to keep the overheat safety sensor from shutting the unit off.
Anti-dry combustion protection
Over-pressure protection (when water pressure is over 145 PSI);
Flow activated
Compliant with Department of Energy gas tankless water heater requirements
Heats unlimited volume of water on-demand as needed
Does not require electricity (operates with 2D cell batteries)
A perfect alternative for homes with frequent power outages or off-grid applications
Only uses gas while water is flowing
Works easily with low levels of water pressure
Anti-combustion and gas pressure safety protection
Rustproof design, no water loss due to leaks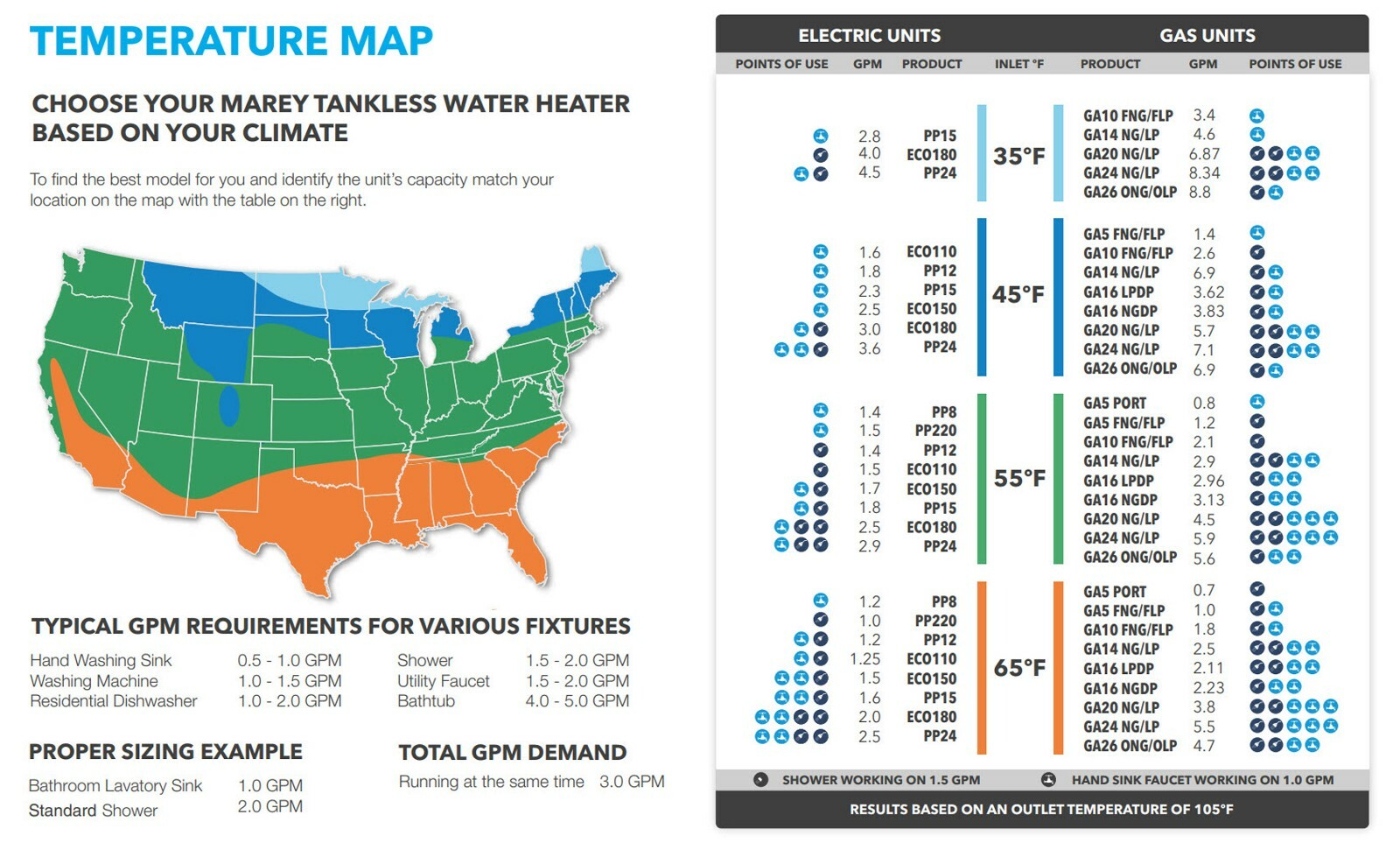 PRODUCT DESCRIPTION
LOW Compact design saves space and is easy to install almost anywhere, Provide endless hot water on demand and only as needed. Marey's unit has a maximum input rating of 34,120 BTU/h and will provide a flow rate of up to 1.89 GPM output. No electrical connection is required; perfect for off grid applications. Its small to medium water production is ideal for indoor usage, apartment, cabins and tiny homes. You are able to control your temperature all year round with a convenient summer/ winter switch. Adjustable manual temperature control, multiple safety sensors including overhead and anti-dry heating. It is not recommended for elevations above 2,000 feet.
Minimum Activation Rate 0.65 GPM
Minimum Temperature 6.8 °F – 66°F MAX.
Water Connection Location – BOTTOM
Water Connection Size 1/2" NPT
Flow Rate:
Flow Rate @ 35°F Rise 1.89 GPM
Flow Rate @ 45°F Rise 1.49 GPM
Flow Rate @ 55°F Rise 1.22 GPM
Flow Rate @ 65°F Rise 1.03 GPM
SHIPPING POLICY
All our products are shipped to you Free; shipping is included in our pricing. We ship multiple USA Warehouses throughout the 48 contiguous states. All large HVAC systems are shipped via freight carries due to the weight. Depending on how rural your location delivery times will vary. However, small or lightweight items are shipped via UPS or FedEx ground.

RETURN POLICY
We offer a 30 day no-hassle return. As soon as your order arrives back at our warehouse and it is inspected, (all boxes need to be unopened for full credit); we will then issue your prompt payment less the return shipping cost.