CARACTERÍSTICAS DEL PRODUCTO
Agua caliente ilimitada a pedido: Activada por presión de agua (5 a 85 PSI) desde el momento en que se abre el grifo.

Sin necesidad de precalentamiento: calentador de agua instantáneo sin tanque

Diseño alemán con canal de agua de acero inoxidable de alta calidad y cámara de calentamiento.

5 años de garantía

Recomendado para los estados del sur de EE. UU. Y las regiones del Caribe

ETL aprobado

Diseñado con tecnología SMART.

Aplicación en el punto de uso. Recomendado para un punto de uso donde la temperatura del agua entrante es superior a 70 ° F.

Requiere (1) interruptor doble de 50 amperios.

Debe instalarse a no más de 40 pies del punto de uso previsto.

Su panel LCD te permite programar la temperatura deseada
DESCRIPCIÓN DEL PRODUCTO
Marey ECO110 proporciona 11kW de potencia, siendo la solución perfecta para 1 puntos de uso. Esta unidad proporciona un aumento de 28 ° F a una tasa de flujo de agua de 3.0 GPM. Consulte el mapa de temperatura para obtener más información que se puede encontrar en las imágenes en la parte superior de la lista. Los calentadores de agua sin tanque brindan una solución de agua caliente eficiente que elimina el consumo de energía en espera de las unidades de tanque convencionales.
Tasa de activación mínima 0.53 GPM

Temperatura mínima 40 ° F - 95 ° F MAX

Ubicación de la conexión de agua - INFERIOR

Tamaño de la conexión de agua 1/2 "

Debe ser instalado por un plomero o electricista profesional para garantizar la seguridad y la calidad.

Recomendado para un punto de uso donde la temperatura del agua entrante es superior a 70 ° F.
Tasa de flujo:
Tasa de flujo a 35 ° F de aumento 2.25 GPM
Tasa de flujo a 45 ° F de aumento 1.6 GPM
Tasa de flujo a 55 ° F de aumento 1.5 GPM
Tasa de flujo @ 65 ° F Aumento 1.25 GPM
Para obtener una gran selección de calentadores de agua eléctricos, de gas natural y propano a excelentes precios, haga clic aquí:
https://www.ebay.com/str/bonterrahometankless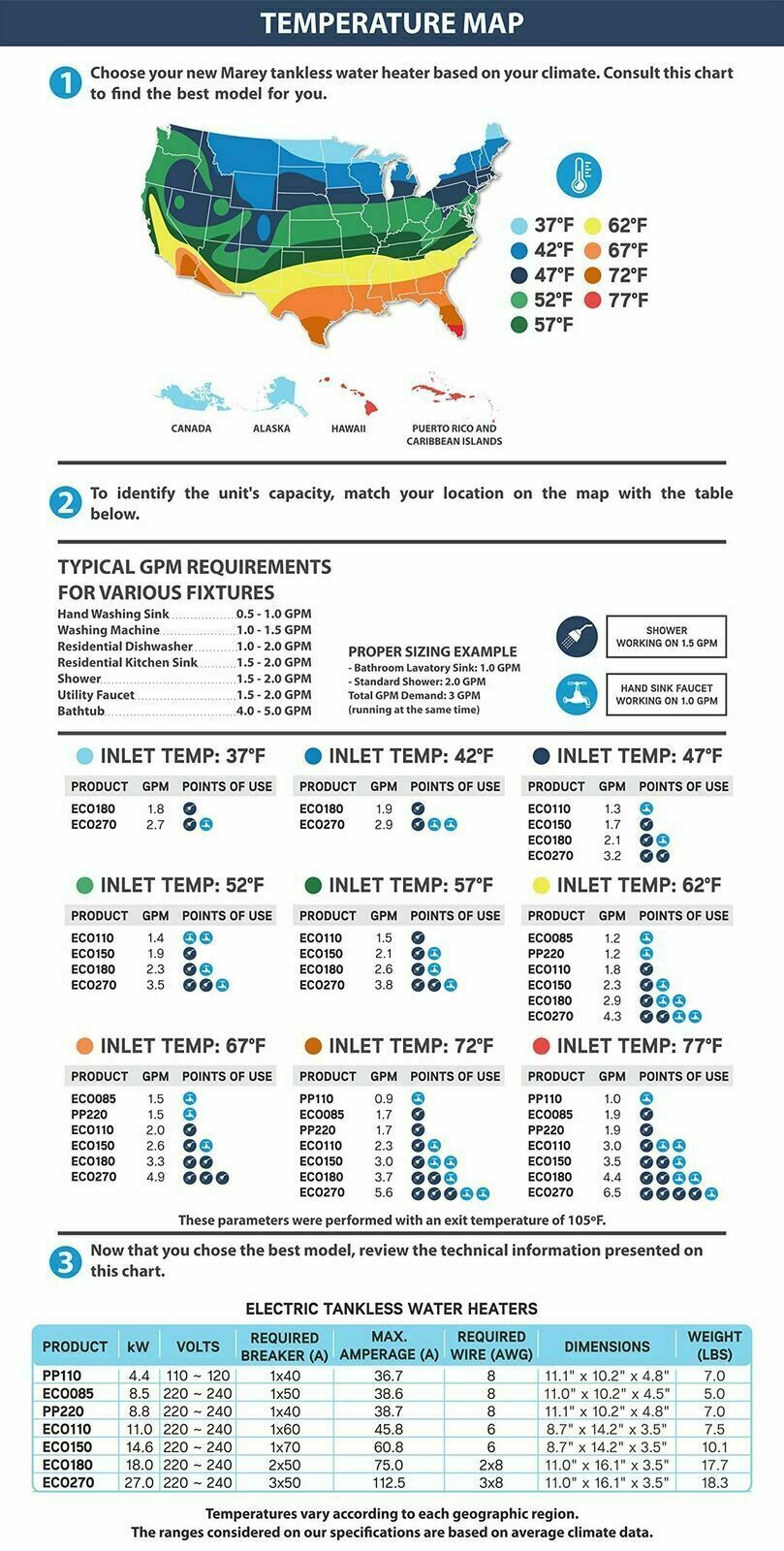 SHIPPING POLICY
All our products are shipped to you Free; shipping is included in our pricing. We ship multiple USA Warehouses throughout the 48 contiguous states. All large HVAC systems are shipped via freight carries due to the weight. Depending on how rural your location delivery times will vary. However, small or lightweight items are shipped via UPS or FedEx ground.

RETURN POLICY
We offer a 30 day no-hassle return. As soon as your order arrives back at our warehouse and it is inspected, (all boxes need to be unopened for full credit); we will then issue your prompt payment less the return shipping cost.